8 DECEMBER 20 | ANOTHER NEW SERIES ANNOUNCEMENT
You know when you have news but you just can't talk about it because…timing? So we are very pleased today to announce our first long form drama commission for Under The Vines, created by Erin and developed by Michelle at EQ Media Group (previously Essential Media Group). Led by the always luminous Rebecca Gibney and the very dashing Charles Edwards, the all NZ cast is superb and we can't wait to work with them to bring Under The Vines to life. Produced by Libertine Pictures and EQ Media Group, we are proud to be in association partners. Today we are very happy little vegemites (that's Australian for happy).
29 NOVEMBER 19 | NEW SERIES ANNOUNCEMENT
10 SEPTEMBER 19 | ANOTHER WRITERS' ROOM = VINO!
We indulged in a lovely drop from New Zealand Central Otago's Domaine Rewa to celebrate the end of a writers' room in Auckland with some wonderful and hilarious Kiwi's.  Thank you Philippa Fourbet from Domain Rewa for the delicious wine! More news on this show soon…
7 JULY 18 | FIRST LOOK DEAL WITH ESSENTIAL MEDIA GROUP
Well, well if it isn't our very own Michelle Hardy in the news being announced as the new VP of Scripted for Essential Media and Entertainment. Of course the big news for HWP is that we've signed a FIRST LOOK DEAL with Essential bringing the two companies even closer…with one of our drama series already optioned and in development under the Essential banner.
19 MAY 18 | WRITERS' ROOM, TICK!
Great couple of days in the writer's room with these legends, Nicole Dade, Mike Jones and TJ Hamilton. The workshop was funded by Screen Australia as part of our Gender Matters Brilliant Careers grant. Now down to some bible writing weeeee!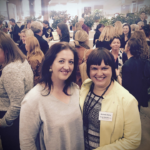 12 JULY 16 | HWP WINS GENDER MATTERS FUNDING
We have been selected as one of 13 companies for Screen Australia's Gender Matters Brilliant Careers funding. To say we are honoured and thrilled is an understatement.